The Curriculum
The European School of Physiotherapy (ESP) offers the possibility of an accelerated three-year Bachelor's degree programme to students from all over the world. Our programme is specifically designed for excellent students who wish to complete their studies in a short time. Our teaching staff, who has contributed to the School's physiotherapy projects throughout the world, have developed a tailor-made programme that meets the highest international standards and requirements.
Intense Programme
In our programme, each academic year comprises 48 weeks of 53 hours each, making the programme both demanding and challenging. You will complete an internship during the different semesters (including summer) at an associate clinic in your home country or elsewhere. In order to complete this demanding programme successfully, you need to be highly motivated, persevering, disciplined and stress-resistant. You need to ask yourself if you are up to the challenge. If the answer is "yes", you stand a very good chance of becoming a successful physiotherapist.
The propedeutic phase
The propedeutic phase is the foundation year. This phase leads to a propedeutic certificate which is a prerequisite for the first internship and for the continuation of the programme.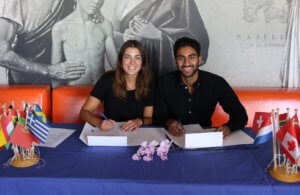 The in-depth and final phases
In the following years subjects will be studied in more detail and integrated into a coherent whole. To ensure that you will have the proper competences, there will be case studies, clinical sessions, minors and special courses and you will do two more internships at different associate institutions.
Internships / clinical experience
The ESP programme includes 4 internships for both programmes. The first internship will be done during the first summer. The final internship is scheduled at the end of the last year. In total, you will spend a minimum of 3 months of 40 hours each at clinical sites. Two internships should be completed outside the Netherlands in at least three different settings.